DRO!D
high performance vacuum device for food.
small and powerful. DRO!D allows to store and preserve food five times longer by combining with its containers, available in three different sizes. two vacuum powers and one button make it powerful, easy to use, and perfect for every type of food. vacuum technology in your hands to protect food and fight waste.
*free green shipping, tax, and duties included.
we have taken vacuum technology to next-level.
the performance of a professional machine in the palm of your hand. to protect the food you love and preserve its properties for longer.
technical details.
DR0!D is a device that allows to create vacuum inside a set of rigid circular containers, inside which all types of food (raw, cooked, solids, liquids, fresh and dry) can be stored and last up to 5 times longer.
the two vacuum powers, allow to reach high vacuum performance and also protect delicate foods such as berries. in around 30 seconds the device is able to reach up to 50 mbar of vacuum, eliminating 95% of original atmosphere.
DRO!D is cordless. it can be charged with its charging base.
DRO!D
vacuum pressure. 50 mbar
input. voltage 100-240V / 50-60 Hz.
output. 12V
weight. 600 g / 24 ounces
dimensions. 11 x 6 x 14 cm
materials. ABS and PP

Containers
FDA-approved.
capacity L - 1.4L. M - 0.7L. S - 0.4L
operating conditions. -20°C +90°C
materials. PP, Silicone, Tritan
Eliminating all oxygen, vacuum technology blocks the food oxidation process, allowing to keep intact the nutritional and organoleptic properties and without affecting odors, colors and texture.
In vacuum technology pressure is measured in millibar (mbar), where absolute vacuum is considered 0mbar. Reaching 50mbar with DRO!D will reduce 95% of the oxygen within the containers.

Vacuum stored products can also be frozen, the lack of oxygen prevent from the formation of frost, therefore avoiding that the food undergoes the so called freezer burns or turns out to be "watered down" after defrosting.

It is an excellent ally not only for the preservation phase, but also for the preparation phase. The vacuum is in fact perfect for marinating food, it allows the seasoning to better, quicker and more easily penetrate inside the food tissues. The increase of pressure, moreover, does not allow water to escape from the food, thus eliminating the phenomenon of dehydration and the loss of volatile substances responsible for fragrances.
high vacuum in the palm of your hand.
DRO!D, the smallest and most powerful of its kind. when you need it, the power of the vacuum in the palm of your hand.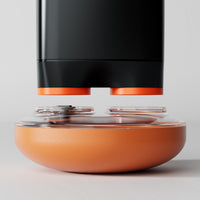 protect your food.
next-level vacuum technology. the performance of a professional machine in the palm of your hand. to protect the food you love and preserve it better and longer.
zero waste.
keep your food better for longer, reuse leftovers and cut down on food waste. in addition, using the rigid containers saves up to 300 non-recyclable plastic bags each year.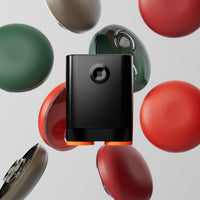 organise your pantry.
3 sizes to fit every space. prepare vegetables and fruit in advance. organise leftovers or prepare a meal for the office. there is always a perfect size.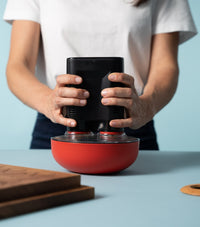 how it works.
DRO!D is compatible with all B!POD containers and always will be. find out more about sizes and colours or try our starterpack.